Best Artificial Grass Fence Features
Grass fence is a type of fence that is mounted on panel fences and wire mesh fences produced using artificial grass. This fence is used in most of the landscaping works done by today. Grass fence is the most popular option, especially for garden landscaping. When we look at the sales rates of fence types in recent years, it is possible to see that the rates of grass fences have increased much more than other fences.
The Function of Grass Fence
Grass fence is the product which is used for both securities in addition to decorative purposes for gardens and it is among the modern fence systems. Artificial grass fence covering is used to achieve an architecturally natural look in gardens, homes, workplaces and cafes. It is applied to the wires and produced as PVC coated and UV protected on hot dip galvanization. Decorative grass fence panels provide a green grass fence appearance throughout the year, even in all seasons.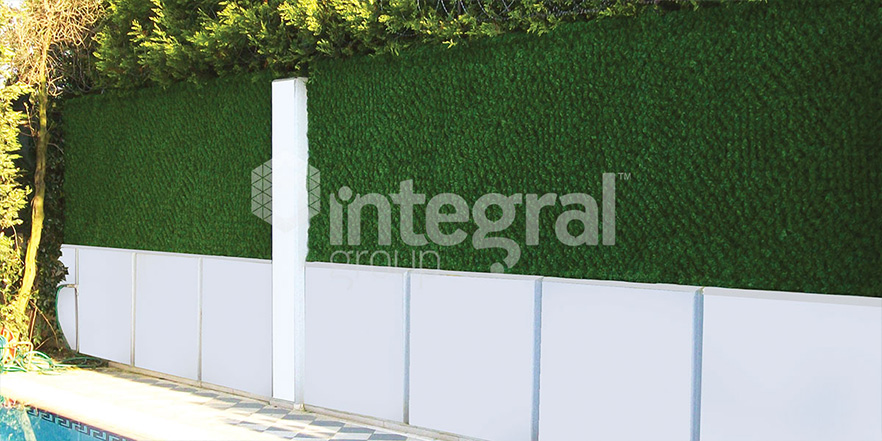 Grass fence wall is a fence system produced with new technology in addition to being the latest technology fence systems produced using artificial grass. The reason why artificial grass is used in production is that it is a very durable and visually very stylish material. With grass fences, you can surround your home and have a visual feast. Artificial grass fences are not only resistant to bad weather conditions, but also do not corrode. Among the fence systems, the most preferred fence system today is grass fences. Because, as we mentioned above, grass fences are both visually stylish and provide complete security.
Usage Areas of Artificial Grass Fence Systems
The use of artificial hedge panels continues to increase day by day. Situations such as the change of decor trends and the increase in the importance of landscaping have made grass fences more popular. At this point, it is possible for people to wonder and ask these common questions:
"For which areas are grass fence panels used?"
"How much do grass fence panels cost?"
Best Features of Artificial Grass Fence
Artificial grass fence is a system that are very easy to install and that both provide security and contribute to the beauty of the environment. Apart from that, the advantages of grass fences may be listed as follows;
Grass fences are economical.
Grass fence edging adds a natural grass look to your garden.
It never fades in color as it is produced from UV protected material.
It can be mounted on a panel fence or wire mesh fence.
It is produced from non-combustible material.
Grass fence panels, which have a very important place in the landscape system, are also very useful for border security.
Due to the use of artificial grass, artificial grass wall is easy to maintain and does not tire the person.
It can be easily washed when desired.
Due to the features in its structure, artificial hedge panels are not damaged during washing and does not deteriorate in its structure.
Artificial hedge fence will not be damaged and its color will not fade in weather events such as rain or snow.
In addition to these advantages, artificial grass fences are UV protected and PVC coated. Grass fence wires are double wrapped and very durable. They are not affected by the humidity of the air and have the feature of reducing humidity. It is a durable and light, fire resistant, long-lasting, economical and environmentally friendly product. For this reason, it is widely used in terms of environmental decoration and privacy.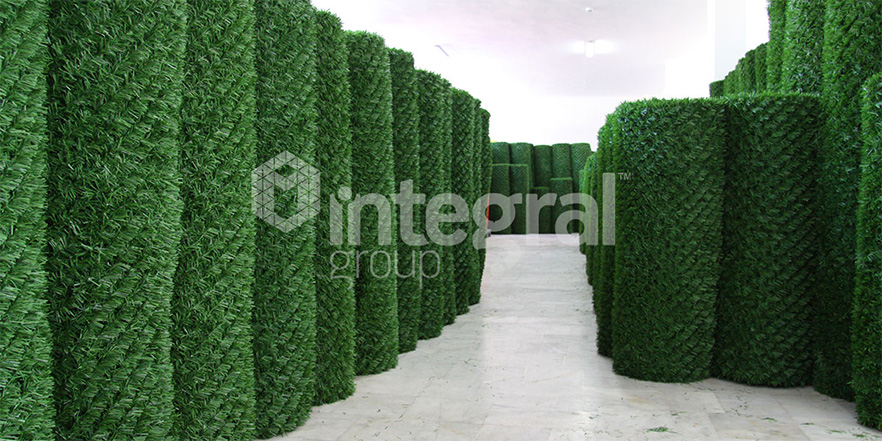 Considering the amount of carbon emitted into the atmosphere, grass fences are definitely an environmentally friendly product. This issue is of great importance in terms of affecting human health. Artificial grass fences with many technical features are ISO 9001 certified. Grass fences definitely do not allow the inside to be seen from the outside. It was produced for this purpose. It is one of the rare products that responds positively to customer needs. Additionally, today many people attach great importance to visually. For example, corporate companies gain a visual advantage by covering their buildings with panel grass fences. Therefore, the grass fence panel has recently become one of the most preferred landscaping systems. With the advantages it provides, fake grass fences have overcome other materials that are used for landscaping.
Integral Group and Artificial Grass Fence Systems
The use of grass fence panels has increased considerably. As a leading artificial grass fence manufacturer and Integral Group, we are proud of always providing quality service to our customers with the grass fence panel systems we have produced with the knowledge and experience of many years.
If you want to work with Integral, you can fill out the form below for detailed information and free price information. We will get back to you as soon as possible.
Other News
Having a private, green and safety space gives a sense of peace to the ...

Review News

A short time ago, the golf sport was a sport branch that belongs to a s...

Review News

Sport is an activity that enables children to develop physically, socia...

Review News