Multi-Purpose Sports Field Construction Company
A multi-purpose sports field is an indoor or outdoor venue for performing physical education, gymnastics, athletics and gymnastics services. This word is derived from the old word gymnasium. They are often found as activity and learning spaces in athletic, fitness centers, and educational institutions. With the increasing demand many sports competitions or sports branch exercises are done in these multi-purpose sports fields. It is possible to categorize these sports fields in two branches: outdoor sports field or indoor sports field.
Outdoor Multi-Purpose Sports Field Construction
Multi-purpose sports court is a field where football, volleyball, basketball, tennis and many other sports competitions can be played. Multi-purpose sports fields are not only practical and useful, but also low in cost. It can be made open or closed according to preference. Multi-purpose fields are generally applied in hotels, housing estates, schools and estates.
There are many types of flooring used for multi-purpose sports field construction:
PVC Sports Flooring
Acrylic Sports Flooring
Polyurethane Sports Flooring
Rubber Sports Flooring
Tartan Sports Flooring
Grass Carpet Sports Flooring
Most Preferred Outdoor Multi-Purpose Sports Field Construction Type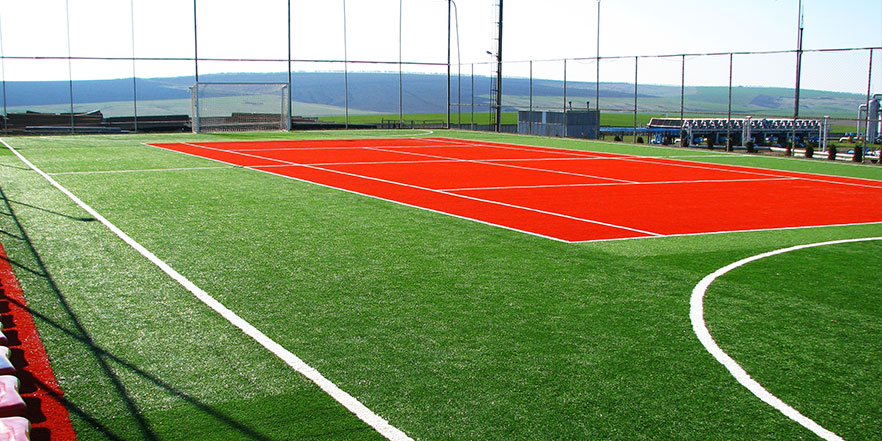 Sports fields with fake grass are multi-purpose fields where synthetic grass carpet is applied on the ground and it is the most preferred multi-purpose sports field construction type. The most preferred games such as mini football, tennis, volleyball and basketball can be played together in these fields. Its dimensions are generally 18m x 36m on average, but multi-purpose sports field dimensions can be changed if desired. It is applied in school gardens, sites, and mass housing. 26mm and 20mm artificial turf carpets are generally preferred in synthetic turf multi-purpose fields. It is economical and durable in terms of use.
Indoor Multi-Purpose Sports Field Construction
Indoor multi-purpose sports field construction is a job that needs to be taken care of. Although it depends on the sport, the sports done in the indoor fields are always open to danger. Therefore, materials that will minimize the danger should be used during the construction phase. For this reason, the flooring should be made with quality and sports-appropriate materials. Generally, acrylic or rubber coating is preferred on the floor in the construction. Thanks to the material it contains, it minimizes the danger. It provides to avoid the damage that may occur as a result of possible fall and impact in the lightest way. Since rubber and acrylic floor coverings are also sound absorbing, they do not spread the disturbing noise of footsteps to the environment. Both the ground and the environment are very important in the construction of indoor sports halls. In addition to health, the sound factor is also taken into account in the construction of indoor sports fields
Steps to Taken for Indoor Multi-Purpose Sports Fields Construction
First, an acrylic or rubber coating application is made to the existing floor. The ground to be applied can also be chosen as asphalt or concrete.
The important thing is to have a hard floor. Smoothness will be achieved after applying an acrylic or rubber coating to the floor.
Thanks to the water-based materials used in the process, the hardness on the floor will enable people to do sports comfortably. The thickness of the coating can be adjusted to best suit the area to be built.
Features of Indoor Multi-Purpose Sports Fields Construction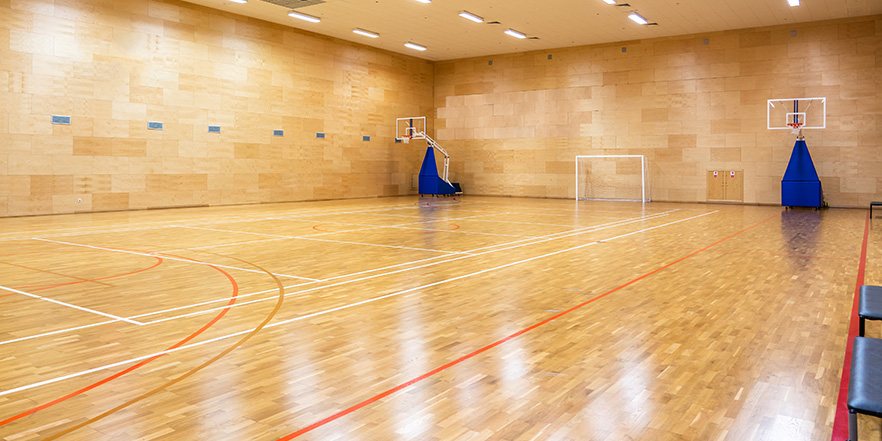 The material of every area to be used in multi-purpose sport fields should be durable. Its durability is a specific feature of usage characteristics. It does not wear out easily. In that way, it has been observed that it can be used for many years. The floor must consist of durable materials. For this reason, rubber and acrylic coating types that are resistant to the floor are used. Thanks to these floors, which are very easy to use in all seasons, possible injuries can be prevented. Cleaning these floor covering types is also very easy. Therefore, they are especially preferred in indoor sports hall construction works. Situations such as wetting and slipping do not occur. At the same time, indoor multi-purpose field is economical and preferred.
Integral Group and Multi-Purpose Sports Field Construction
The most important thing for multi-purpose sports field construction is experience and expertise. Thanks to its expert team, quality products and customer support, Integral Group is among the leading multi-purpose sports field manufacturers and it offers the best multi-purpose stadium to its customers.
If you are also looking for quality products and services, you can contact us immediately or make a request on our website. You may fill out the form below for detailed information about the installation process, multi-purpose stadiums benefits and multi-purpose sports fields cost. We will get back to you as soon as possible!
Other News
Having a private, green and safety space gives a sense of peace to the ...

Review News

A short time ago, the golf sport was a sport branch that belongs to a s...

Review News

Sport is an activity that enables children to develop physically, socia...

Review News