Importance of Sports Hall Construction in Schools?
Exercise in the fresh air is healthy and everyone agrees on that. But on autumn and winter days with slush or drizzle, you can play football on the frozen football field? Although it strengthens the immune system, it takes some effort. "Being inside, outside". That means enjoying the advantages of an outdoor sports facility under a protected roof to the fullest and all year round, with individual hall equipment.
Structurally, the multipurpose halls consist of open steel construction with a gable roof and optionally 1 to 3 playing fields. There are no walls, they are completely replaced by a surrounding board and floor-to-ceiling ball stop nets. The outdoor sports halls which are built by Integral Group are extremely economical due to their system construction. Also, it is suitable for numerous types of sports, can be converted into an event area, and also scores with its low operating and maintenance costs as well as its individually adapted size and hall equipment. Sports floors from polytan guarantee optimal playing properties without the risk of injury either the artificial turf system can be used. But let's first take a look at the economic concept underlying an Integral Group sports hall.
The Cost-Effective Alternative Sports Hall Construction
The multipurpose halls meet all requirements on the one hand through their intelligent modular construction and on the other hand through the reduction to a few hall types. In this way, the acquisition costs are only around 10 percent compared to existing outdoor hall concepts. The low space requirement and the short construction time of the outdoor sports facilities also contribute to the high level of cost-effectiveness: they can be ready in 8 to 10 weeks. In addition, they are characterized by their high energy efficiency and ease of care, and they are neither heated nor do they require particularly time-consuming maintenance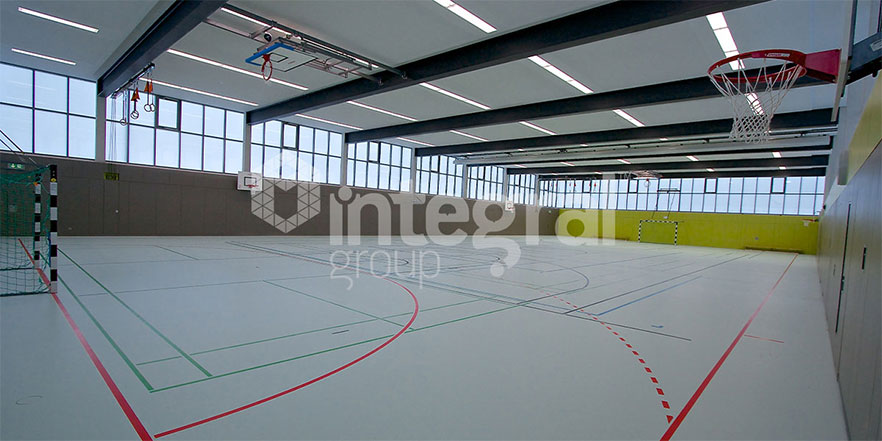 A high-quality, hot-dip galvanized steel construction forms the long-lasting, extremely robust supporting structure of an Integral Group sports hall. The weather-resistant, only flat pitched gable roof, which with a large roof overhang of 1.5 m also includes the edge areas of the multi-purpose hall, protects against rain, snow, and direct sunlight. Circumferential, low-noise sandwich bands with a PU foam core in combination with close-meshed ball catch nets form a closed cage that guarantees exciting games without interruptions. Thanks to ball-proof LED lighting, the outdoor sports facility can be used day and night. Unrestricted accessibility for people with disabilities as well as access for rescue stretchers rounds off the sophisticated hall concept. The possibilities of using an Integral Group sports hall in schools and public areas are diverse and can be optimally adapted to the needs and requirements of the respective operator with the help of the modular system. It is offered as a 1-field, 2-field, and 3-field hall.
Innovative Flooring Systems of Sports Halls in Schools
These sports halls have an artificial turf system filled with infill granules that were designed by polytan especially for soccer and have proven themselves on mini-pitches for years. The textured turf fibers make the artificial turf robust and easy to care for. Artificial grass flooring systems, on the other hand, have a lot of variants without sand or rubber infill. This type of artificial turf is ideal for hockey, as it allows a fast and precise game due to its dense and even surface.
With both sports floors, it prevents the playing field from overheating on hot summer days and an elastic layer ensures optimal cushioning. And of course, other ball sports such as rugby, lacrosse, etc. can be practiced on both systems. A modular cover shelf made of plastic transforms the outdoor sports field into a robust event area in no time at all. Other selected features for ongoing operations complement the new multipurpose halls.
Smart Technology Services from Integral Group Company
With a clearly visible, digital scoreboard, players and spectators are always informed about the current score, if the multipurpose sports hall is equipped. This is controlled via a separate relay and goals and points can be counted at the push of a button. An audio and box system, which can be conveniently operated with a smartphone or tablet, provides the perfect background music for an aerobics class or a dance event, for example. The sound is aligned so that it is concentrated on the inside of the outdoor sports hall and the neighbors remain largely undisturbed.
The technical highlight of the hall equipment is the permanently installed speed measurement above the goals: it uses two laser measuring devices to determine the speed of the balls and transfers the result to the digital display board - to the delight of players, spectators, and coaches alike. For this purpose, the outdoor hall is more equipped than an indoor sports hall with a fully electronic system that consists of an automated light and camera control and an internet-based booking and payment system. This not only reduces the administrative effort of the external rental to a minimum, but also the already very low operating costs of the sports facility.

Numerous Integral Group sports halls in Europe have already proven it: the weather-protected multipurpose halls with synthetic turf from polytan are very popular with athletes. For clubs and communities, they also offer the opportunity to create cost-effective, sustainable sports facilities and that within a binding budget. And the demand for covered and multi-functional sports facilities is great, as there is an extreme lack of sports halls and free hall capacity in many places. As an Integral Group team, we have already completed many primary and high school sports hall projects successfully. We promise a long-lasting usage of our services in these projects and offer the most budget-friendly prices in this field. If you are willing to build an outdoor sports field there is good news for you, these halls are defined at much lower costs. But on the other hand, you are able to use an indoor sports hall in 4 seasons for many years. For more detailed information, you are able to make an appointment and get deeper aspects from an expert from us.
The Contribution of Artificial Grass Flooring to Outdoor Sports Fields
The main reason for the construction of artificial grass pitches, this is the correct name, whereby "artificial turf" is used synonymously, is the expectation that these will allow more hours of use than natural grass pitches and that they will be available for the club's teams to train even under adverse weather conditions. It is important to note that only regular maintenance of the artificial turf ensures that the course can be played all year round. Maintenance with towing equipment or, more and more often, the artificial turf robot consists of regular cleaning, leveling out the infill material, and brushing out compaction. The primary goal of artificial turf maintenance is to maintain the water permeability of the playing field. Once or twice a year, specialist companies carry out more intensive measures with special machines.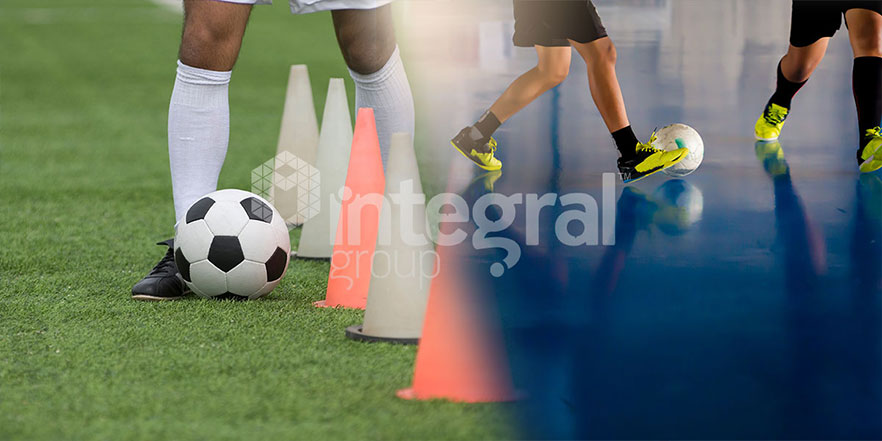 International Construction Features
The artificial turf pitch is installed in accordance with DIN EN 15330-1 and DIN 18035-7: 2019-12 using certified products from specialist sports hall construction companies. The layer structure according to various standard construction methods consists, among other things, of gravel base layers, an asphalt surface, and the elastic layer. The actual synthetic turf system consists of a carpet made of tufted filament. Filled in quartz sand stabilizes the system and ensures that the fibers straighten up. Different types of granules also ensure sport-specific properties. In addition to the texture of the fibers, the infill material ensures a playing feeling that comes as close as possible to natural grass.
The artificial turf system filled with sand and granulate is not the best solution for every usage concept. The cost/benefit calculation can also show that a site that is heavily filled with sand is most suitable. This applies, for example, to the multifunctional use in school sports. Artificial turf for hockey or tennis usually comes from a different product group and is not suitable for soccer.
Conversion to Artificial Grass
The product selection should be made with the support of a specialist planner. A specialized landscape architect or an office for sports field construction plans and accompanies the installation of the new artificial turf or the conversion of a natural turf or tennis court into artificial turf. For testing and order acceptance, it is advisable to take an independent and certified expert for sports floor testing with you into the project. An institute for sports facility testing can also help the sports field operator to assess the condition of his artificial turf field and advise him on whether repairs, renovation, or a new building are advisable. If there is a new building in the room, professional disposal of the old material is necessary.
Calculation Elements on Artificial Grass Flooring Systems
When considering the cost calculations for artificial turf projects and the aspect of the amortization of the investment sum, various points must be taken into account: after the expected life cycle of around 12 to 15 years, a new construction measure is necessary. Professionally installed, the sub-structure produced (in-situ construction) can be used for one or two further cycles, if necessary after being reworked. In addition to the new artificial turf, the disposal of the old wear layers must also be anchored in the budget.
In a cost comparison between natural and artificial turf, the synthetic playing field does not necessarily do better. The water consumption is lower, on the other hand, the artificial turf only makes sense with floodlights. Because without the lighting, the desired hours of use cannot be achieved, especially in autumn and winter. The current development in the debate on micro plastics and the ban on plastic granulate has resulted in practically no more artificial turf pitches being built with rubber granulate. Operators of such systems can initially rely on grandfathering but have to plan differently for the next generation. The sports field world calculator shows how alternative filling materials compare to classic plastic granulates in terms of costs, service life, and playing behavior. Of course there are a lot of companies that offer this service but we promise and guarantee you that we are going to provide the best and highest-quality services for you. Due to our professional approach we have many strong exportation connections with the USA, Greece, Italy, Afghanistan, Portugal and France. If you are curious about our other projects and innovative products, you are able to click on this link and reach our next article.
Other News
Having a private, green and safety space gives a sense of peace to the ...

Review News

A short time ago, the golf sport was a sport branch that belongs to a s...

Review News

Sport is an activity that enables children to develop physically, socia...

Review News