How to Build Olympic Swimming Pool?
Olympic swimming pools, designed in accordance with the standards of the International Swimming Federation (FINA), is highly sought after by individuals interested in swimming. These people use the Olympic swimming pools for training purposes. Olympic swimming pools, also known as swimming pools suitable for Olympic swimming competitions and water sports competitions, have two types as Full Olympic Swimming Pool and Semi-Olympic Swimming Pool.
With more than 20 years of experience, Integral Group has been doing swimming pool as well as Olympic swimming pool installation. We are proud of being the leading company in the sector not only in Turkey but also in many parts of the world with our superior service understanding. Our understanding of quality products and fast service has greatly increased our customer base. We export our quality products all over the world, from the United States to the Philippines, from England to Mozambique.
The Olympic swimming pools built by Integral Group are divided into indoor swimming pool and standard swimming pool. Within the scope of the services we offer to our valued customers, we are rapidly constructing Olympic pools in both venues.
Olympic pools have some features. One of these features is that these pools are quite large in length. If you want to build an Olympic swimming pool, first of all, a project is created by our company by calculating the area and taking into account all the areas related to the pool, then this project is transferred to the electronic environment. One of the most important criteria for starting the construction phase of an Olympic swimming pool is that the area where the pool will be built follows international standards. Otherwise, it is not possible to proceed to the construction phase until the appropriate area is provided.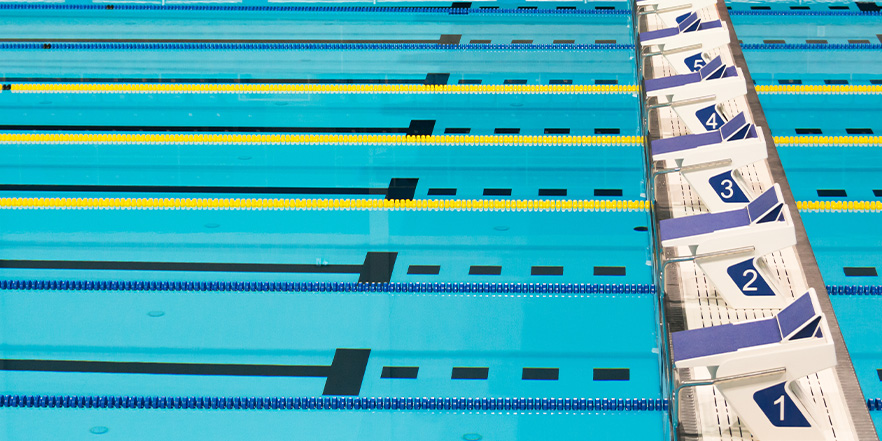 There are some stages of the Olympic swimming pools that we built as Integral Group. We can list these stages as follows:
1. Reinforced Concrete Operations
The measurement phase is very important in the construction of an Olympic swimming pool. International standards must be complied with in Olympic pools. First of all, measurement approval must be obtained from the authorities. Reinforced concrete processes are the most important stage of swimming pool construction. Afterwards, operations such as screed applications and plaster are carried out. It should be noted that these steps must be done very carefully.
Integral Group acts meticulously and quickly with its expert team, who are experienced in Olympic swimming pool dimensions and reinforced concrete processes. With our professional teams and quality equipment, these stages are realized very quickly. In this way, the coatings on the inner surface of the pool are completed.
2. Waterproofing Processes
Every construction phase of Olympic swimming pools must be carried out with great care and professionalism. The slightest mistake to be made causes a waste of both time and money. As Integral Group, these operations in Olympic swimming pools are carried out in detail by our experienced team so that you do not have to deal with such problems.
Waterproofing is one of the most important details in Olympic pool construction. The inner surface of the pool is primarily covered with waterproof material. Then the water filling process is done. The reason for the water filling process; It is to check whether there are situations such as leaks. In case of leakage or any signs of collapse, it is immediately intervened, and the problem is eliminated before it grows. Integral Group works very meticulously in this regard.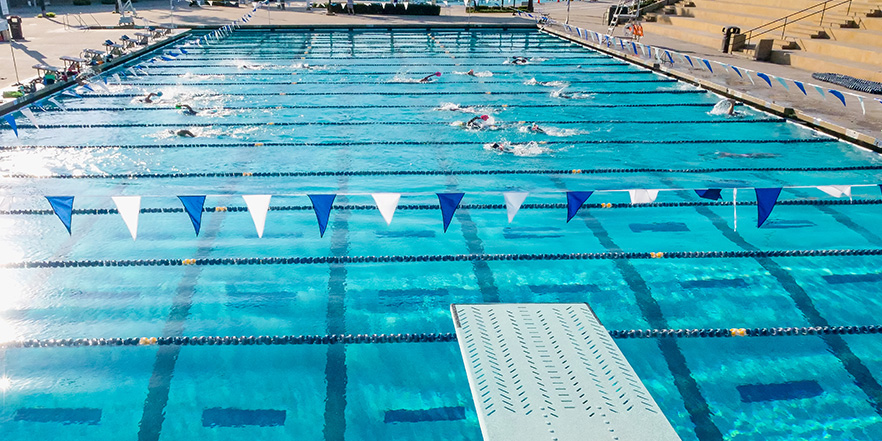 3. Coating Processes
The most important criterion for a good coating process is the use of quality materials. The use of quality materials is very important for the health of the athletes using the Olympic pool. However, using good materials alone will not be enough. These quality materials should be furnished by expert personnel.
Integral Group is very careful and meticulous at this point. Because it is one of our most important goals to provide the highest quality service to our valued customers. The construction of an Olympic swimming pool is completed with non-slip and water-repellent coating materials. As Integral Group, we complete the construction of the Olympic swimming pool by providing the costliest and quality materials in line with the full and semi-Olympic pool dimensions, together with our experienced team.
4. Internal and External Mechanical Operations
One of the most important elements of a pool is water, and it is very, very important that this water is clean. The area where the whole body will be in must be clean and hygienic. Integral Group ensures that the water remains clean with internal and external installations. With this system used, water is always ready for use.
Another important issue is to give the necessary slopes to the pool. Because the water in a pool should be equal in all areas. The placement of tools such as non-slip and minutes in Olympic swimming pools is another important issue. Thanks to Integral Group, you do not need to think about these processes, because we carry out every process in the installation of an Olympic swimming pool for our valued customers.
If you want to work with our expert and experienced team in olympic swimming pool installation and at the same time, you can contact us to get more detailed information about swimming pools for sale, swimming pool cost, swimming pool for adults and swimming pool for kids.
Other News
Having a private, green and safety space gives a sense of peace to the ...

Review News

A short time ago, the golf sport was a sport branch that belongs to a s...

Review News

Sport is an activity that enables children to develop physically, socia...

Review News