Usage of Artificial Grass in Children's Playgrounds
Artificial grass as a floor covering is finding its way into more and more areas. Artificial grass carpet roll is also an ideal option for children. That is why day-care centers, schools like to use artificial turf when it comes to redesigning outdoor and indoor areas.
There is increasing demand for artificial grass installation process compared to the typical playground sand. Fake grass landscape on playgrounds is not only easy to care for and offers a feel that can hardly be distinguished from natural turf, but also looks wonderful as the best artificial grass and is much more resilient than natural grass. Playgrounds in residential areas or schools are used very intensively, especially if they are equipped with exciting play equipment that enables children to climb and scramble to their hearts' content.
In contrast to artificial grass, natural lawn usually does not survive this intensive trampling and requires a lot of maintenance. Integral Group offers an excellent alternative to natural grass so that children can play in a playground specially created for them.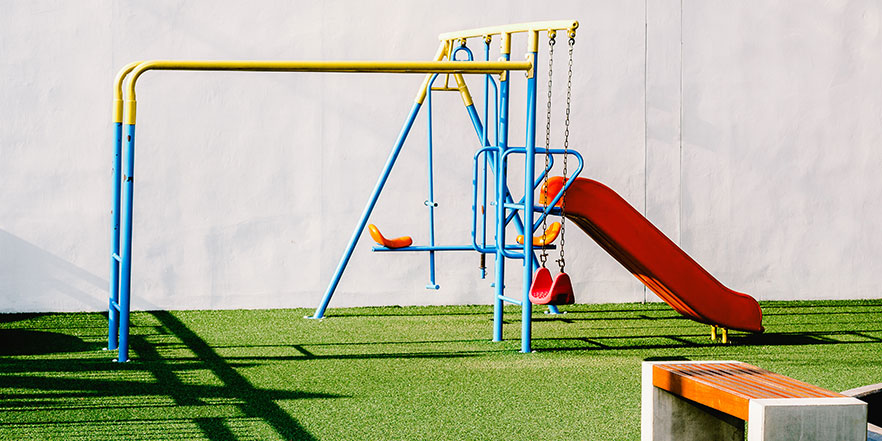 The Advantages of Integral Group Artificial Grass:
Quick-drying, always inviting green.
A beautiful, safe playground in both summer and winter weather conditions.
Minimum maintenance, does not have to be mowed and does not require water or fertilizer.
No problems with grass allergies
A safe underground under playground equipment.
No annoying rubber smell.
Artificial turf is very hard-wearing and long-lasting
Minimal maintenance effort and thus lower costs for the community
Partial repair option
More hygienic than sand or natural grass
Suspended surface and lower risk of injury in the event of a fall
Weather resistance
Less risk of slipping through artificial turf
Nice look that can hardly be distinguished from natural grass
Almost all year round fun for the little ones
Soft Feeling with Artificial Grass Wholesale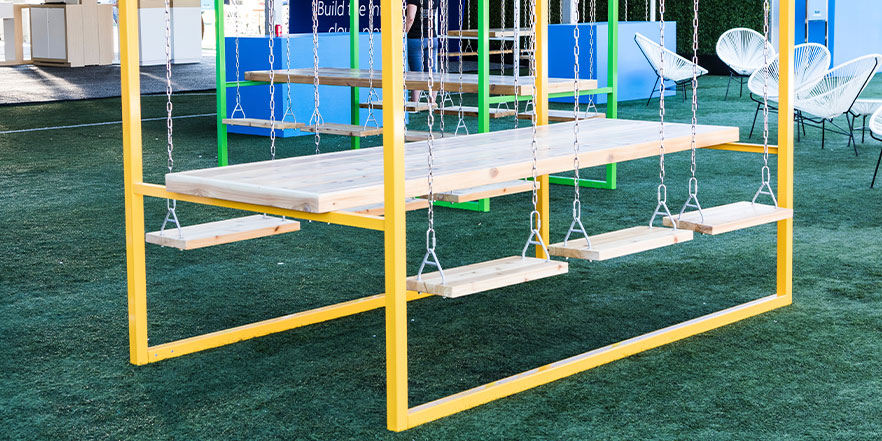 If you want a wonderfully soft walking feeling for the playground, we recommend the high-floor artificial turf varieties as artificial grass for sale in affordable artificial grass installation price for the playground. Due to the long artificial turf blades, the uniquely soft feeling of walking is hardly distinguishable from that of a natural meadow.
At the same time, it is easy to lay the high-floor artificial grass roll types because the edges of the individual artificial turf strips cannot be easily seen through the long stalks. Even if there are usually no such strict fire protection requirements on outdoor areas and playgrounds, it is reassuring to know that our artificial turf varieties for playgrounds meet the fire protection class Cfl-S1 with a suitable impregnation. Corresponding fire protection certificates are of course available for our artificial turf.
Highest Demands at the Lowest Artificial Grass Prices
We all love well-tended, green and evenly grown natural grass. But this product is no longer up-to-date in a children's playground. Playgrounds are subject to extreme stress. As a result, the natural grass soon shows the first areas that have been trodden bare. Here the ground becomes very hard and unsightly. When it rains, puddles and mud surfaces are created, which make it impossible to use the playground. Laying artificial grass cheap on playgrounds can almost completely prevent these disadvantages with the most budget friendly artificial grass prices.

On and under the playground equipment, artificial grass Turkey can greatly reduce serious injuries caused by falls. Depending on the risk and height of fall, elastic layers of various thicknesses can be laid under the artificial turf. The range of indoor playgrounds is growing and it seems to be a profitable business for their operators. All the more, the highest demands on safety and equipment have to be made in these indoor play facilities despite high artificial grass roll prices. For most systems, artificial turf is a basic requirement for the success of this business model, if only for visual reasons. The safety requirements of the authorities for the approval of an indoor playground are very high in international platforms and that is a good thing.
Artificial turf offers an excellent, easy-care alternative. Integral Group which has been exporting to the USA, the UK, Albania, Algeria, Bulgaria, Portugal, Italy, France and many others offers various products for playing fields with artificial grass carpet. They are easy to maintain and require little work. You save time and money and it is also the perfect solution for children to have fun all year round.
There is no doubt that a playground is used more than, for example, a playing field. We have of course taken this into account and therefore offer different systems, including those for the most intensive use. Whether you are looking for a solution for your favorite pruning area or the outdoor area of a daycare center or you need a clean solution for the area under swings and slides, Integral Group also has a suitable product for every use. Are you thinking about artificial grass installation for your playground? Please feel free to contact us. If you would like to have more information about how to install artificial grass on soil, artificial turf cost per square foot or other points you can click on this link and visit our next articles.
Other News
Sport is an activity that enables children to develop physically, socia...

Review News

Sports facilities and carpet pitches became widespread and people start...

Review News

While artificial grass production is one of the most valuable options, ...

Review News